Do you want to contemporize your kitchen? If you are considering updating this room in 2021 or for 2022, here are the top five current trends. Rest assured, these styles will stay popular going into the new year and for years to come!
Most Popular Layouts? L & U-Shaped Kitchens
Gone are the days of open concepts – now, the most popular layouts for kitchens are the L and U shapes. The horseshoe workspace configuration features cabinets and counters running around three sides with an open end for access. With the proper design, you can have a layout that maximizes workspace and provides convenient storage that puts all the necessities within reach while staying out of sight.
Natural Materials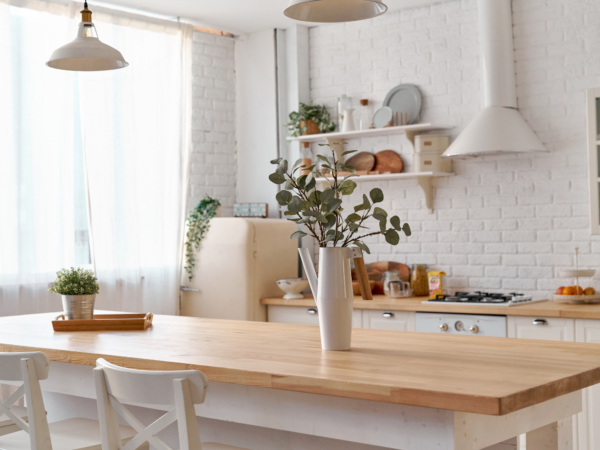 The quality of the material is essential for new kitchen trends in 2021. Many people are choosing minimalist designs that let high-quality natural materials dominate the aesthetics. The way to go is with real wood, quartz, and any other material that brings a slice of nature into the kitchen! 
Many kitchen renovations in 2021 are incorporating genuine marble, both as countertops and accents like the backsplash. While the fragility of this stone once scared homeowners away, using a proper sealant on the marble will help it stay looking like new, no matter what you throw at it!
Darker Tones & Grays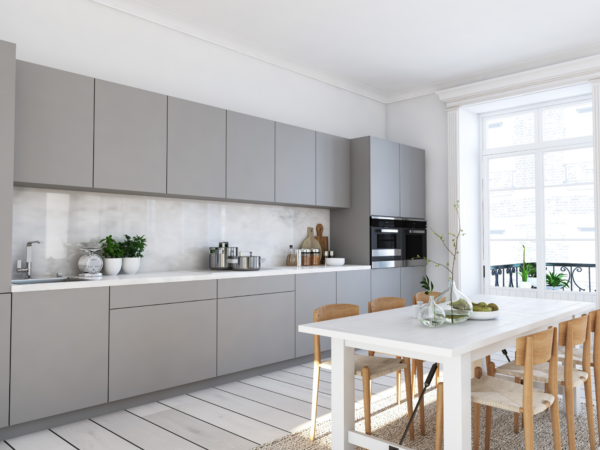 The most popular kitchen wall colours right now are darker tones and grays. A shift from recent trends that focus on bright whites, darker colours create an atmosphere that envelopes you, making you feel more comfortable and welcome. Homeowners can make it work by selecting a neutral colour you enjoy that also matches the counters and appliances.
Of course, it's still trendy to accent these darker tones with white. White subway tile is still popular, but more homeowners want to make statement backsplashes using the natural colours and materials of the previous point. Tiles with matte finishes and discrete motifs are also trending, with the shapes attracting the eye rather than the flash or shine. White shaker-style cabinets continued to be the choice for homeowners adding cabinets or replacing cabinet doors. Speaking of new cabinets…
More Space For Storage
Most homeowners are using kitchen renovations to add or replace their cabinets. Adding or upgrading pantry space can take the form of walk-in pantries or pantry cabinets. Most who upgrade their kitchen to include an island want some storage, including cabinets and drawers. Some are adding shelves for open storage.
One excellent new trend is called the butler's pantry. It's a small room that you can use for many activities: storage, meal prep, and as a pit stop before taking your elaborate dishes to the dining room! We would make a butler's pantry by converting a place in your kitchen that tends to sit vacantly. It doesn't even have to be a big spot – just a convenient one!
Vent Hood Accents
Vent hoods are now designer accessories, and in 2021, more homeowners made them an eye-catching element as part of their kitchen decor. Rather than stick with the utility of stainless steel, more people want their vent hoods painted a colour that matches the rest of the space. One recent innovation is laying down wooden slats to hide the structure. 
All you need is a safe material in a colour or style that goes with the flow of your kitchen's interior design – we can make almost anything work!