The bathrooms of today's modern home are not just places for washing and freshening up – they now act as a refuge meant to relax the user and help them release their tensions. The eras of simple bathroom design are gone, and every year, we're witnessing the demand for new trends and accessories.
Here's what 2021 has to offer, with many trends that will last for decades to come!
Blended Aesthetics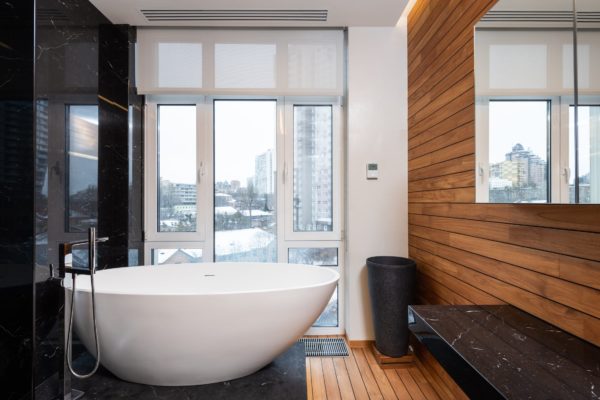 The options available to homeowners are not limited to the clinical cleanliness of polished ceramic and chrome. More people are becoming confident with a bolder, more personalized bathroom. Many clients want the room to feel like a relaxing sanctuary, complete with their favourite colours, artwork, and fixtures that meld vintage and modern aesthetics.
If you're looking for colours to tie everything together, 2021 is seeing the return of dark shades, including black. Pastels, blues, greens, and earthy tones are all very popular, too.
Floating Vanities
Floating vanities are cabinets anchored to the wall off the floor. It's a popular addition to many bathroom renovations because it wraps space-saving storage and fixtures in a contemporary look. They can accommodate sinks, faucets, and hardware to fit any bathroom style, all without looking like they take up a lot of room.
A floating vanity doesn't look like a big heavy box on the floor, and because it's off the ground, you'll find it easier to clean your bathroom floors, too. A partial floating vanity lets homeowners set up an arrangement that isn't limited to the space they have around the plumbing. You can use storage cabinets on the wall vertically or horizontally, open or closed, higher or lower.
Soaking Tubs
Se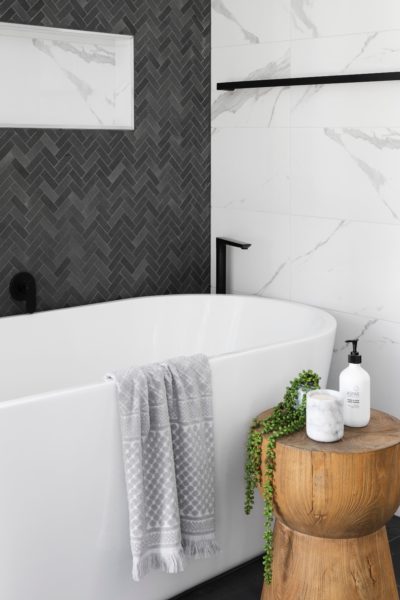 parating the tub from the shower is a popular bath layout, but shower spaces are getting bigger. But the pandemic has only increased homeowners' desire for relaxation, and more and more are turning to soaking tubs.
Soaking tubs are freestanding bathtubs that (typically) have an oval shape. You can fill it with enough water to allow for total submersion, but letting the homeowner do with less space. It can also save on utilities – a smaller-size bath doesn't require as much time to fill or need as much water!
Integrated Backlighting For Mirrors and Medicine Cabinets
Mirrors and medicine cabinets with integrated backlighting are a welcome addition to any modern bathroom design, even if nothing else changes. The integrated lighting offers ambience without adding harsh glares or reflections on the mirror; it can double as a nightlight when dimmed.
A backlit mirror creates a glowing effect on the wall giving the illusion of a floating mirror. Homeowners can use it to highlight the textured wall surfaces behind the fixture. These simple shapes with eye-catching lighting can be decorative and functional!
Natural Wood
You might think that wood in a room with a lot of humidity and moisture isn't a good idea, but 2021 is looking to change that! Wood is a natural material that, depending on the finish and choice, brings a luxuriousness or the rustic feeling of nature back into the home. Many designers use it as a wall and floor covering, but live-edge countertops and real-wood accent pieces are also popular.
If you're looking to make your bathroom a quiet, welcoming environment, the clean and fresh texture of the wood will add these touches to the bathroom – as well as a little extravagance!