When redesigning the kitchen, you don't have to sacrifice how you work in this room for how it looks – many design elements improve the flow and usefulness of your kitchen. Here are five kitchen must-haves to improve both the functionality and aesthetics of your kitchen.
Well-Lit Cabinetry
A fairly common error in kitchen design is the reliance on one ceiling-mounted fixture to light up the entire kitchen. It leaves much of the space enveloped in shadows, making it not just harder to find something in the cabinet but making the kitchen look dingy and dull. A combination of light fixtures, including some set right in the cabinets, is the best way to enhance the capabilities of your kitchen.
Installing recessed pot lights and extensive lighting above, below, and inside the cabinets will illuminate the recesses of the kitchen and make everything more visible.
A Decorative Exhaust Hood
The classic stainless steel hood of days gone by still has a place in many kitchens. However, it's out of place in just as many, too. By putting different materials, colours, and designs together, homeowners can personalize the space with a decorative option, much how they'd select tile and light fixtures. 
No longer do people even have to be content with metal; now, you can put everything from wood, plaster, brick, or a mix of materials to great use. Customizing your exhaust hood can showcase and shine in a beautiful kitchen while venting out heat, smoke, grease, moisture, and cooking odours. 
A Pull-Out Spice Rack
If you're a home chef, you need a well-organized, easily accessible spice rack for preparing your meals. The many small containers of spices you need whenever you try a new recipe can take up a lot of space. It can look even worse while you're cooking! You can keep everything neat and organized by making a pull-out rack a part of your wall cabinetry. It will prevent your kitchen from looking chaotic and help keep your many spices organized.
A Multifunctional Island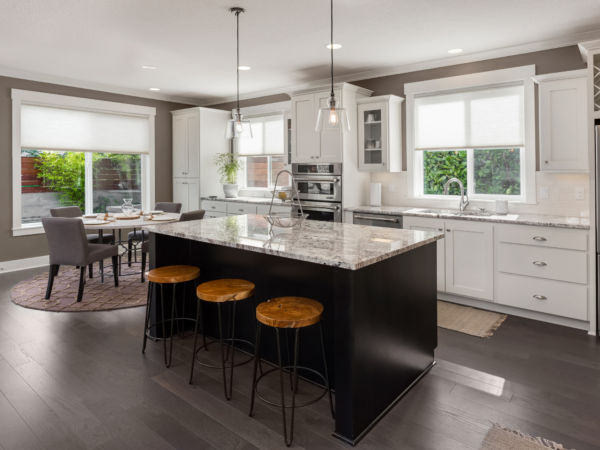 If you're looking to increase the surface area, seats, and storage of your kitchen, a multifunctional island could be the ideal solution for all these needs. Kitchen islands are no longer something small to squeeze into the space – they're now an integral part of most kitchens. 
It's not hard to see why: an island lets you interact with family and visitors while preparing food, gives you a place to store your pots and pans, and adds more seating. It also creates a workable flow where there'd otherwise be emptiness.
Enclosed Trash and Recycling Bins
As they design their perfect kitchen, more homeowners want to get rid of garbage receptacles on the floor. It's understandable: waste cans take up floor space, smell bad, attract fruit flies, and can be a temptation for pets. Hiding them away is the best option, and a custom compartment for them is a must-have for any kitchen.
The best solution for function and aesthetics is to keep the trash and recycling bins hidden in custom cabinets like the kitchen island. When you have a custom compartment for the garbage, you'll have a more sanitary kitchen for food prep, more space for other items, and no foul smells.