Not every home needs a complete renovation to look new. Working on the main entryway is often enough to make a positive first impression. To truly make a house all your own, take a close look at your front door. Does it say luxurious to you? Take it another level and give your front door the makeover it deserves. 
Give Your Front Door A Splash Of Colour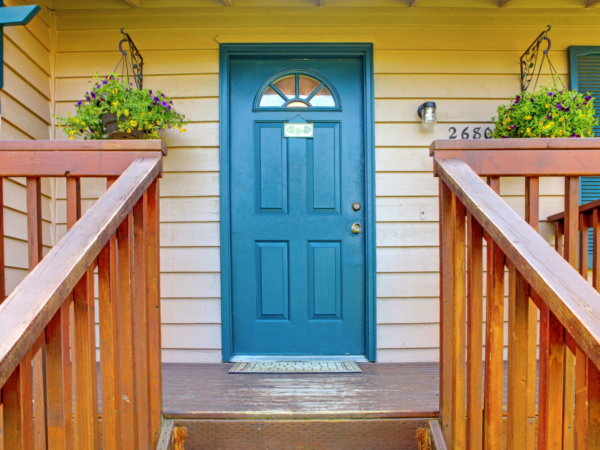 If you're in a suburban area where all the houses look alike, you don't have to blend in – help your home stand out with style by painting your front door an exciting new colour. When the paint is high quality, you have a great way to impress passersby and showcase your individuality in a way that won't annoy the neighbours. 
Make the right choice by painting your door an accent colour that works with your home's exterior. For example, if the building is mostly earth tones, painting your door plum will help it look right at home. To keep from making the house too one-note, painting the border with a contrasting colour will brighten darker hues and make the home look more inviting. 
Not all neighbourhoods are the same, though. Some districts and historic areas say that homeowners must choose an approved colour, narrowing what's available. 
Paint The Door A Bold Black 
You don't always need a pop of colour – black is the choice for many luxury goods, and that can include your front door! It's a high-impact neutral colour that works with many exterior materials, colour combinations, and home styles. When you set a black front door against a brick exterior painted white, for example, the door is guaranteed to command attention!
Your home's exterior finish, whether brick, stone, or siding, will also help you make a choice. Pairing the shutter and door but keeping the trim a different colour looks comfortable without being too busy, perfect for homes with brick exteriors and those with one colour of siding.
Use The Best Door Accents & Accessories
Your door may not need a new coat of paint at all – all you might need are accents that bring out the best in it! New hardware like locks, handles, knobs, and knockers can make even the most ordinary doors look special. Because this hardware can be expensive, it's a long-term commitment. Understanding how the parts and finishes will perform over time is crucial!
Some materials and colours work better together; brass accents, for instance, add luxury to doors painted gray and deep blue. Modern homes often look better with sleek, simple door accessories like a rectangular or square knocker and a spherical or cylindrical door handle. 
If your door is flat, a well-chosen door handle will look like a piece of art! The accessories surrounding your door can luxuriate the look, too, so think about updating your home's numbers and letters. 
Before purchasing any new hardware, measure the thickness of the door and the size of the holes holding the existing hardware. If you don't, you might find yourself trying to fit new door hardware where it won't work. The existing holes on the door will tell you many of the specifications. One measurement you shouldn't ignore is the backset or the distance from the edge of the door to the center of the handle.
Pair The Front Door With Your Home's Shutters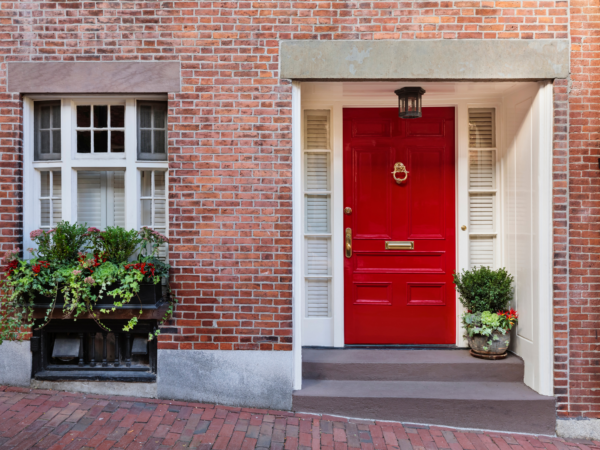 Shutters painted in a lighter gray tone fade into the background, and the focus can stay on the front door. Black and gray are the most reliable colour pairings, as they never go out of style. If black and gray seem a little bland for you, though, consider adding hanging plants to your front porch to add some colour to the exterior of your home.
Of course, your front door does not have to match your trim or shutter colour. You can pick a different paint for each or the same for all. If you want a makeover that says luxury, though, make sure to think hard about how these colours work together!