Selecting the right kitchen countertop can feel overwhelming. There are so many colours and materials available, and the countertop is a focal point of the entire room. The right choice can make or break a kitchen design, so it's necessary to know your options. 
Your first choice – and arguably the most difficult – is what kind of material you want in your kitchen. It determines the cost of the project and how you interact with your kitchen.
Natural Materials: Granite, Marble & Wood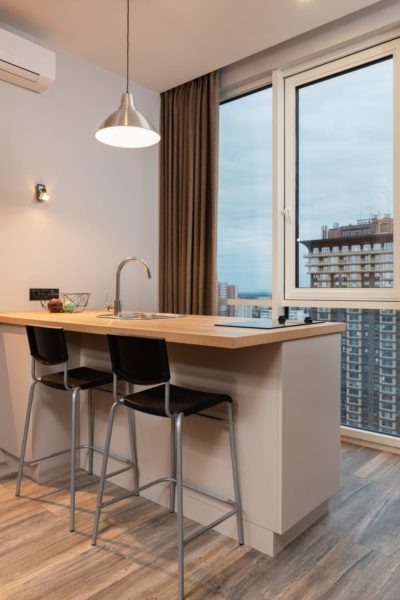 Granite is an incredibly hard material, capable of standing up to all the perils of cooking: heat, splashes, knife marks, and other forms of wear and tear. It's cut into long, thick slabs that require few (if any) seams, and it's treated with a sealer that makes the countertop stain resistant.
Marble is highly regarded among specialty cooks as an almost perfect work surface for baking or making fresh pasta. Because it is soft and porous relative to other stones, marble countertops are more susceptible to stains and chipping than granite, even with a seal.
Wood counters typically use maple, a dense hardwood option, but you can find these countertops in cherry, walnut, oak, teak and birch. Wood countertops come in three ways: edge grain, end grain, and wide plank: 
Edge-grain counters are long, thick strips of wood glued together with the edge grain facing up. 

End-grain counters or butcher's blocks use short, square pieces of wood joined together with the tough end grain facing up. These counters can vary between 4 and 12 inches thick!

Wide-plank counters use edge-glued wide boards to make the surface. Widely regarded as the most traditional style of a wooden countertop, it can be susceptible to cracking and warping if it's not meticulously maintained.
Other countertops take natural materials and combine them into a final surface that can be beautiful. We'll call these the "in-betweens": quartz and concrete.
The In-Betweens: Quartz & Concrete
Quartz uses natural materials, but it's a material called engineered stone made from a combination of crushed quartz and resin that recreates the look of stone. It's 90% quartz and 10% epoxy binder or acrylic, and you can find it in a few different composites, including Corian Quartz, Formica Solid-Surfacing, and Silestone. It's durable, resists staining, and has a very uniform appearance that's difficult for granite and marble.
Concrete counters, which closely resemble natural stone, continue to be a top choice among people interested in countertops they can customize. Fabricators now pre-cast the counters in a workshop and install them fully cured and finished. The slabs are honed and sealed to prevent staining. Though concrete is strong, cracking is always a concern with concrete; counters will be reinforced with wire mesh, metal rebar, or fibreglass fibres. 
Synthetic Countertops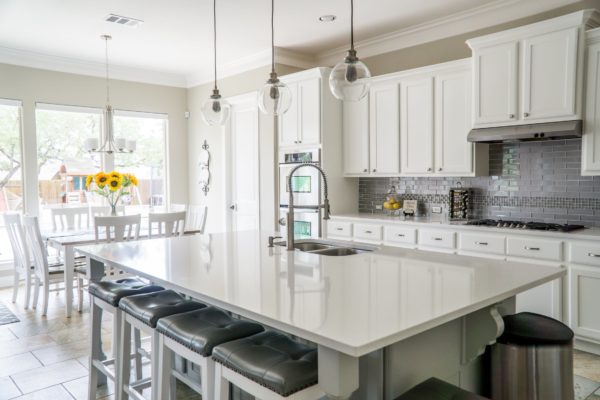 Synthetic materials like solid surfaces are made from mineral derivatives and binders into sheets; laminates are compressed paper and melamine resins with a plastic laminated finish. Most synthetics are less expensive than natural materials, but the quality can vary based on composition and manufacturing process.
Plastic laminate is the most well-known material, and 1/16-inch-thick general-purpose is the proper kind (1/32-inch vertical grade is for backsplashes). It's the most affordable while being surprisingly durable, and it can survive decades under even the toughest kitchen conditions.
Another popular synthetic choice is post-formed laminate counters. These ready-to-install laminate counters have the front edge, countertop surface and backsplash all fabricated and formed into one seamless slab, with the material formed and curved using heat, blocks, and glue.
What Colour Do You Want?
We've discussed the durability, craftsmanship, cost, and other pros and cons for each countertop material, but we've left out one characteristic: the colour. For many homeowners, how the new countertop looks in their kitchen is essential, and the choice often comes down to colour options.
Many materials can have an almost endless selection of colours. Synthetic countertops can come in hundreds of colours and patterns and even in a variety of textures. Concrete countertops can have colour added to them with dyes. 
Natural materials have less leeway, but homeowners can still find many Wooden countertops and butcher's blocks have a warm, rustic look depending on the species and finish. Granite comes in colours ranging from vibrant blue to deep black. After the granite is cut and polished, it generally has a glossy sheen, but you can find it with a honed finish (more of a matte appearance with less shininess). Leathered granite, often overlooked, has a slightly textured surface that lends a rustic, casual look to a kitchen.
The best way to make a choice is to see your options and talk with your kitchen contractor. The SWO General Contracting team can help you select the kitchen countertop of your dreams!