If you're planning a kitchen upgrade, choosing the right kitchen cabinet style for your home is one of the most daunting decisions. The cabinetry might be the first thing people notice in your kitchen, so they have to make a positive impact. How can you make the best choice for your home?
Custom Or Prefabricated?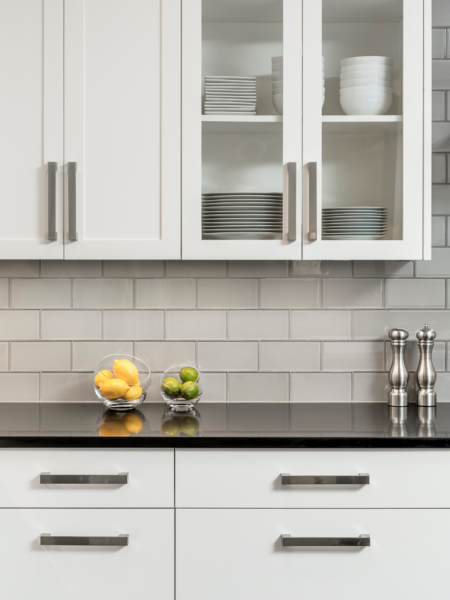 One of the first decisions is choosing custom cabinets or a prefabricated style. Contractors can take the measurements of your space. They'll figure out the best ways to maximize the storage, style, and efficiency of your new kitchen cabinets. Your cabinets can fit into the corners and contours of your walls, pull-out drawers can slot into convenient spots, appliances can nestle where you need them most – choosing custom provides an almost limitless amount of options!
Prefabricated cabinets don't have nearly the same level of customization, but they have one advantage: they're more cost-effective. It all depends on your preferences, budget, and storage needs. You can even try the semi-custom cabinets, with a price range that falls in the middle. 
Appliance Layouts
While your cabinets are the most noticeable part of your kitchen, they should not be its focus; they should help make your kitchen easier to use. If you have large appliances that need space on your countertops – microwaves, stand mixers, toasters, coffee makers, etc. – you can think about these when you plan the cabinet design. Working around them rather than taking up valuable overhead counter space can make the kitchen more user-friendly. 
Door Styles
You have two overarching styles from which to choose: inset or full overlay doors. Inset doors sit in the frame so that when the door is closed, it fits flush with the face of the cabinet. Since the door is flat with the rest of the cabinet, you need a door pull or knob to open the cabinet. Full overlay doors give a similar appearance but generally come with a lower price tag. They completely cover the cabinet face, providing the flat cabinet front so desired in inset cabinets. 
Storage Needs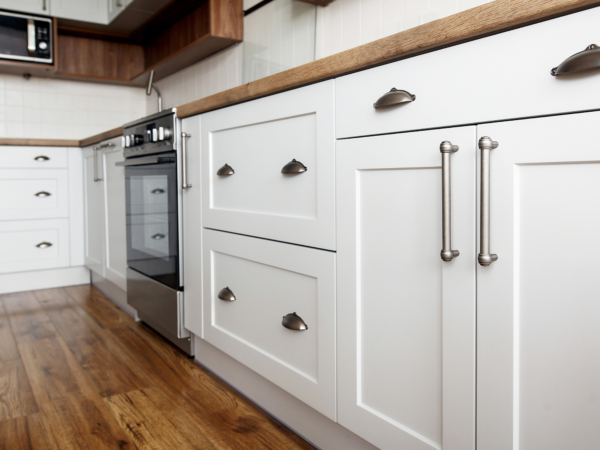 If you love your kitchen, you probably have many specialized utensils, pantry items, and appliances that have to have a place. If you're thinking about new cabinets, you probably struggle to find places to store everything in your kitchen! When choosing your kitchen cabinet style, it's good to think about how you can maximize the space in your kitchen cabinetry.
Choosing a system with practical drawers gives your new cabinet system multiple storage levels, maximizing the vertical and horizontal space. If you love home cooking, an open spice rack will keep all your seasonings in one convenient place and on display.
How Many Drawers Do You Want?
Kitchen drawers are great for maximizing your storage and enhancing your organization. But believe it or not, different kitchen cabinet styles can have various drawer configurations. Many modern looks include a lot of drawers; old-school wood styles will often have more cabinets instead. 
Many homeowners try to balance the number of drawers and cabinets in their kitchen for form and function. Consider your choices in regard to your budget, too – systems with more drawers tend to be more expensive than cabinets!
Modern, Rustic, Traditional – Or A Mix Of Styles?
No matter what else you have to consider, your ideal kitchen cabinet style all comes down to personal taste. Cabinetry takes up so much of your kitchen's aesthetic space, but it still needs to work with your overall home décor goals. 
For many clients, modern cabinetry is the way to go; this is especially true if they want a good return on their investment when selling. It's a good idea: although most trends evolve quickly, interior designs don't age fast – a modern design with frameless cabinets will still look fashionable in the next five to 10 years.
Traditional designs, on the other hand, are proven to have withstood the test of time. Many homebuyers will enjoy them (or at least not let the cabinets diminish their enthusiasm for the home), so if you're thinking of selling your home past a decade, they can be the best choice – especially if you love this look!