Sometimes, the best way to make your bathroom feel luxurious is to go back to the past. One way old designs are becoming new again is in the soaker tub. As the name suggests, these tubs are deeper than your standard bathtub, giving you a more immersive experience. Once you read about the benefits they provide, you'll want one in your bathroom!
What Is A Soaker Tub?
A soaking tub is a freestanding bathtub that is typically oval, letting the user sit up. The tub has enough water depth to allow the user to submerge themselves totally in the water. You can cover your whole body in the warm water in the same amount of water (or less), meaning your knees or arms no longer sit exposed to the cold compared to more traditional bathtub designs. 
What differentiates a soaker tub from an ordinary freestanding bathtub is the water depth; freestanding bathtubs have roughly one foot of water depth, whereas soaking bathtubs can go up to three feet! 
What Styles Can Soaker Tubs Come In?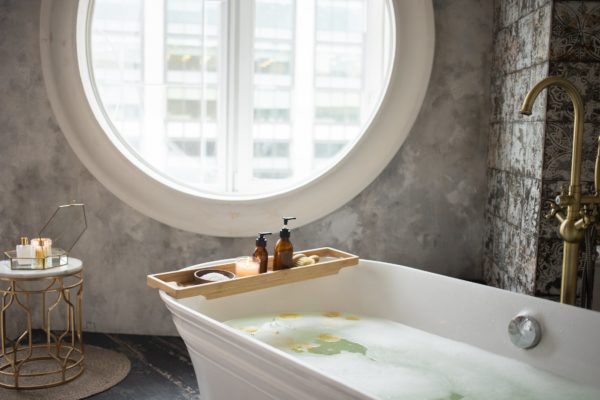 You'll find most soaker tubs in four materials: acrylic, enamelled cast iron, stone resin, and wood. Acrylic is the most flexible material, and you can find models in a wide variety of shapes and designs. The drawback is that the material doesn't have the same heat retention abilities as stone resin and cast iron. 
For a rustic look, many homeowners are choosing soaker tubs made from enamelled cast iron. These tubs are durable and easy to clean, and they retain heat much better than acrylic tubs. However, the cast iron makes even an empty tub quite heavy, and the additional stress of all the water makes it necessary to add extra reinforcement to the floor.
Stone resin is kind of a happy medium between acrylic and iron; it has excellent heat retention, looks like a natural polished stone, and comes in a wide range of designs and shapes to fit your bathroom's layout and decor. 
Wood is a more difficult material to find, but it has more aesthetic properties than useful ones. Wood doesn't retain heat well, but depending on the wood, it can provide unique properties like natural aroma when exposed to heated water. Some people choose wood types that have medicinal properties.
Why Do I Want A Soaker Tub In My Bathroom?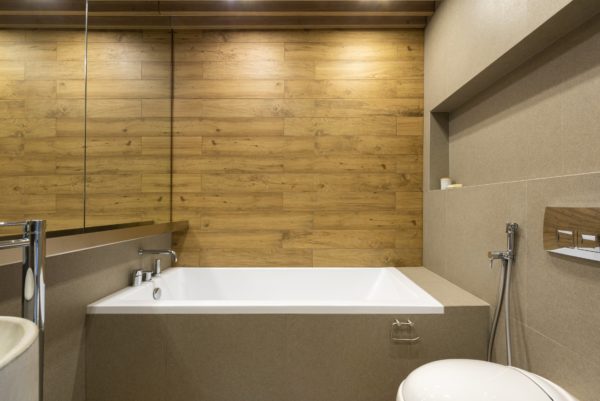 Soaker bathtubs provide a more therapeutic bath than your average tub, and this way, they provide many health benefits. They are ideal for adults and seniors who need to relax their muscles, as the deep soak can soothe any joint or muscle pains. For seniors, soaker tubs are very beneficial for joints and muscles, prolonging their health.
Another benefit of deep-soaking tubs is how well they retain heat compared to other tubs while using less water. The dimensions give the tub a smaller surface area exposed to the air, meaning it loses less heat during the soak. Combined with the less water needed to fill the tub, homeowners can enjoy energy and water savings.
Of course, one of the greatest benefits is how soaker tubs look in your bathroom! You can find these amenities in many different styles, and their freestanding look means they'll look at home in your home. You don't even have to replace your ordinary tub-shower combo!