The holiday season is here, and if you failed to fulfill your dream of having your kitchen renovated this year, it is not the time to be downhearted. You can still extend love and happiness in your home by beautifying your kitchen this season of joy. You do not always need to make drastic changes to your kitchen. A few simple hacks to renovate your kitchen this holiday can make a huge difference.
If you are still in the mood to improve your kitchen's look and feel, here are simple suggestions that might help you.
Tip 1: Replace the knobs and handles of your kitchen cabinets
Never underestimate the importance of kitchen hardware, for these can do wonders to your space. If you have rusting or worn out knobs and handles, it is time to let them go. Among the most prominent details in the kitchen are the cabinet and drawer handles. You may not notice them now, but if you replace them with something new, your eyes will naturally get drawn to them.
Changing the handles is a great and easy way to freshen up the look of your kitchen. You can use classic brass, nickel, or high-gloss metal door handles or experiment with different options and DIY solutions to make them stand out.
Additional Tips:
Replace your doorknobs and pulls with something comfortable and easy to use.
Make sure they do not have sharp edges that can hurt or harm anyone in your household.
Make sure that they also provide enough clearance between the door and the pull.
Tip 2: Replace the cushions of your chairs
If your kitchen chairs have old cushions on top, maybe it is time to replace them with newer ones. Aside from the change in appearance, new cushions can bring extra comfort to your seats. This tip is another simple yet life-changing hack to implement in your house. Every time you have a meal with the family, you will enjoy a more relaxed experience sitting down, enjoying good food, and exchanging stories. Spending more time with your loved ones will be even better with new cushions.
Moreover, your old kitchen chair cushions probably have served you for years now, so it is the perfect time to invest in new ones. You can play around by getting cushions with striking colours or stay classic by sticking to your home's theme.  This is one of the simple hacks to renovate your kitchen that can do wonders.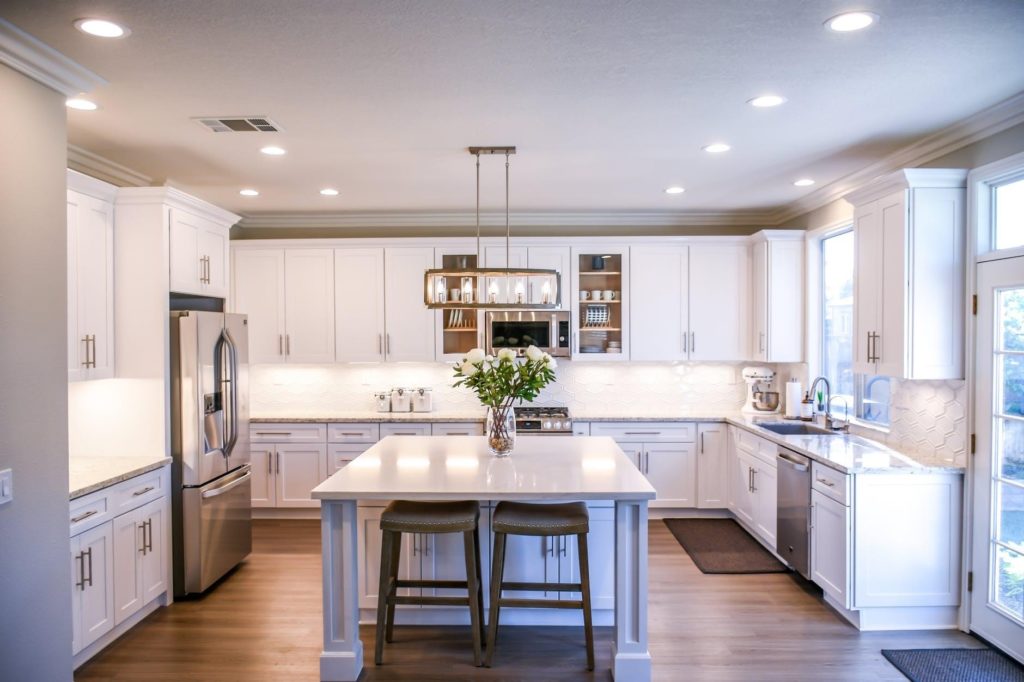 Tip 3: Replace your countertop
If you have the budget for it, you can give your kitchen a makeover by replacing the whole countertop with a slab stone. It is a great way to make yourself feel and your kitchen look better.
If you do not have the budget for a slab stone countertop, there are many affordable ways to change its look. Many modern designs and quality laminates give you more options you can use for your counter. Some styles can let you mimic woods or stone, and they usually do not look different than the actual thing.
Concrete, tiles, or woods on your kitchen countertop are also excellent materials to make it look brand new. They are cheaper to install than other alternatives, plus, they can last long with proper maintenance.
Conclusion
Like the old saying, there is always a way if you have the will. Beautiful things take time. Start small and make little changes and work your way up, but make sure that these modifications are something that you will keep for long so your investments will not be wasted.
Once you are ready to make full kitchen renovations, work with southwestern Ontario's renovation experts. SWO Contracting is the leading building and renovation company in London, Ontario, with more than 25 years of experience. We can help you design and build your new kitchen from start to finish. Contact us for a free in-home consultation.